Once again let us look to Memorandum for the story of Duke and the muzzies:
(Note: I have purposely not capitalized the proper names as they pertain to islam. I do not think they are worthy of that distinction. DC)
Franklin Graham / WNCN:
Duke bows to pressure, cancels weekly Muslim call to prayer
Let us look through this article and examine the many problems with this way of thinking.
DURHAM, N.C. –
Duke University has canceled its plans to have a Muslim prayer announcement broadcast from Duke Chapel's belltower on Friday afternoons.
The university announced its plans to facilitate a weekly call to prayer; but on Thursday, Duke officials acknowledged the decision resulted in unintended backlash. A Duke official told WNCN the school changed its mind after it was "presented with some significant and credible concerns about safety and security."
"The idea was conceived with the best of intentions and the greatest of intentions to create unity," said Michael Schoenfeld, vice president for public affairs and government relations. "It turned out to have the opposite effect and it was actually creating divisiveness that was neither intended nor valuable."
Well lade-frickin-da! It "resulted in unitended backlash." What did they think it was going to do? Everyone gather around the campfire and sing Kumbaya? Duke University was started by Methodist and Quaker Christians. A simple look at the history of this institution will reveal that muslims had absolutely nothing to do with it. http://library.duke.edu/rubenstein/uarchives/history/articles/narrative-history. The article goes on to quote a statement from a muslim society whose purpose is the same purpose of CAIR and every other muslim organization in the United States. That purpose is soft propaganda by which the resistance to muslim infiltration is gradually broken down over a period of time with constant initiatives and dialogue using the common theme of "coming together" in unity and harmony. I think they have seen that approach will work much better in the United States than outright terrorism. It is the same concept put forth by Khrushchev and his Russian commie buddies back in the cold war days. He knew that by slowly chipping away at the Judeo-Christian foundation of America we would fall from within. No need for a full frontal assault. islam can slowly choke the life of democracy off by doing this exact thing all over the country.
"They apparently bent to pressure. It's a slap in the face to Muslims, not just to the students there but to the Muslim community of Raleigh and to Muslims in general," said Khalilah Sabra, with the Muslim American Society. "At this time, we should be trying to build something together."
See, there it is – "We should be trying to build something together." I assure you, the only thing muslims want to build is a universal caliphate and impose shariah law on the western world. I cannot emphasize enough that Christianity and islam are totally and unequivocally opposite of each other and cannot be reconciled to exist in any kind of agreement. islam is an evil, murderous, ideology that teaches, lives, breathes, and demonstrates around the world every second of every day, its bloody, murderous, vengeful, evil nature that spews forth death and destruction in every area that it controls through fear and intimidation. islam degrades and enslaves women, does not tolerate homosexuality (at least officially) and a million other things it deems Haram or not allowed. Every single day islamic clerics are coming up with another "forbidden thing" that can get a person stoned, beaten, or beheaded. I specifically mention homosexuality here since it is the liberal pet cause these days and they champion the right to commit every deviancy known to man yet also bow down to islam which is a direct contradiction. Once islam and shariah law is in place homosexuality would be banned. How anyone can think that this ideology can "coexist" with Christianity or any other religion is seriously deluded. islam actively perscutes and kills Jews, Christians, Hindus and Buddhists around the world. They are commanded to do so by the man they serve and the book they read. What else do you expect? Anyone who is not a follower of prophet mo is considered an infidel and must either convert to islam or be killed. So how in the world can Christianity and islam come together on any so-called common ground? There is NO common ground. Thank God that at least one Christian spoke out against this atrocity. Franklin Graham says below:
The plan also drew the ire of evangelist Franklin Graham, who urged Duke alumni to withhold support because of violence against Christians that he attributed to Muslims.
Graham told WNCN he felt the school "was making a huge mistake."
"First of all, this chapel was given by donors, Methodists, from across this state and other areas, so that there would be a Christian chapel on the campus so that the students would have a place to worship the God of the Bible," Graham said. "What I have the problem is using the chapel that was built to be a house of worship — to worship Jesus Christ as the Son of God — that they're using this now so that they can put loud speakers and use it as a minaret."
Graham is the head of Samaritan's Purse and the son of evangelical Billy Graham. He said other religions "are getting front row and Christians are being pushed … to the back of the room."
"And we're the majority," Graham said.
Duke, a private school, was founded by Methodists and Quakers and has a divinity school historically connected to the United Methodist Church. Duke has roughly 15,000 students, including 6,500 undergraduates. The school said about 700 students are Muslim.
The amazing thing to me is that both secular and Christian America have this sudden need to bow down to and accomadate islam and muslims. This is not a muslim institution. It started as a Christian institution, as did many schools in this country before secularism and humanism took over the American educational system. It is today far removed from much of a Christian premise even in their divinity school.
A student, quoted below, said the decision "disturbed" him. You know what disturbs me? That someone who is pursuing a masters degree in "divinity," of which I assume means the "Divinty of Christ," would have this mindset. This is the damning mindset of liberal, lukewarm, candyass Christianity that is being pushed out of many of these so called seminaries in this country. God help us that this is the kind of person that will stand in a church pulpit and instruct others on the tenets of the Christian faith. Reminds me of Matthew 25:27 (Living Bible) : 27 "Woe to you, Pharisees, and you religious leaders! You are like beautiful mausoleums—full of dead men's bones, and of foulness and corruption. 28 You try to look like saintly men, but underneath those pious robes of yours are hearts besmirched with every sort of hypocrisy and sin.
Lars Akerson, a master's student at Duke Divinity School, said he was disturbed to hear the University reversed its decision.
"We have a lot to learn from one another. But if we fear what we see rather than want to learn together, I think that's too bad," Akerson said. "Fearing people who we don't know is really unfortunate."
One student, who I am sure is one of the smartest individuals in the universe, said this:
"We should have gotten over these things a long time ago. Prejudice and bigotry and Islamophobia should not exist now. … People can't separate Islam from terrorism. People can't separate Islam from fear. A minority of people have done something very wrong — they harmed people — but the majority of Muslims have nothing to do with them whatsoever."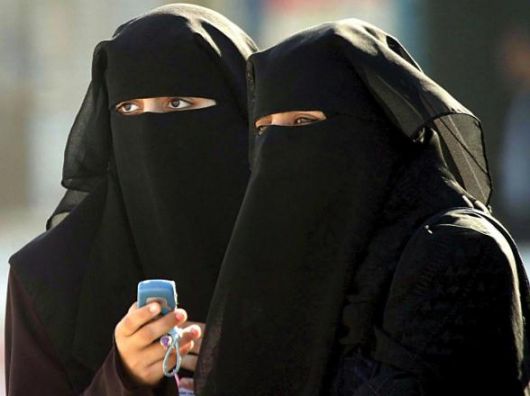 How will this student like this plan? Shariah law imposed upon her.
It is certainly true that every muslim is not a terrorist. But almost every terrorist is a muslim. The only thing this girl will be getting over is her loss of freedom to do as she pleases because she will be wrapped up and enslaved within shariah law, wearing a burka as commanded by her new leaders. islam teaches retribution, murder, and death. If any so-called moderate muslims do not agree with this doctrine of jihad, then let them come forward and speak out against it. So far I have not heard much. Silence is consent. One other thought before I go. You will notice in these "common ground" diatribes that are constantly being pushed by liberals and muslim activists (and they are ALL actively involved and committed to conquering the world in the name of islam) that the only people expected to compromise are the "other" parties involved. The muslims want to come and take over the church, or the synagogue, or the cathedral, or the Catholic University. It is never the other way around. That is because the muslims would never allow anyone of any other faith or any infidel to desecrate their mosque or so called holy place. Infidels cannot even enter their holy city of Mecca. Then let me pose the glaringly obvious question. Why are Christians, even the Pope for God's sake, allowing muslims to enter in and desecrate our faith, our churches, our universities, and our traditions. Jesus Christ said plainly in John 14:6 :Jesus saith unto him, I am the way, the truth, and the life: no man cometh unto the Father, but by me. Now there can only be one – "The way." Not "a" way. If Jesus Christ is THE WAY then everything and everyone else is not the way. Paul said in 1 Timothy 2:5 : For there is one God, and one mediator between God and men, the man Christ Jesus. Jehovah God told Moses in Exodus 3:14 :And God said unto Moses, I Am That I Am: and he said, Thus shalt thou say unto the children of Israel, I Am hath sent me unto you. There is one God and that God is Jehovah. His name is not allah. Allah is a false god and his messenger mo is a liar, pedophile, and murderer. There can only be one god. And we here in America have to decide whom we will serve. As Joshua said to the children of Israel I say this to you. Joshua 24:14-15:
14 Now therefore fear the Lord, and serve him in sincerity and in truth: and put away the gods which your fathers served on the other side of the flood, and in Egypt; and serve ye the Lord.
15 And if it seem evil unto you to serve the Lord, choose you this day whom ye will serve; whether the gods which your fathers served that were on the other side of the flood, or the gods of the Amorites, in whose land ye dwell: but as for me and my house, we will serve the Lord.
I have made my decision. What about you?  Dave Cole