Dunkin Donuts is a Yankeeland item which has begun to colonize the world. Mediocre coffee, mushy donuts which are not really fat-fried and have no crunch, but half-decent daily bagels. Also, "Breakfast sandwiches" made of God-knows-what warmed-up plastic-wrapped thawed-out food-like substances.
People like Dunkin anyway. It's familiar, predictable, comfortably mediocre. A welcome sign to see on a cold, sleety night of driving in the middle of nowhere. Clean bathrooms. A Dunkin franchise is a cash cow for the franchisee. I know a Greek immigrant who now owns five of them. He's rich. He is fortunate in having a loyal, smart, and pleasant mostly-Hispanic staff. A few Pakistanis too.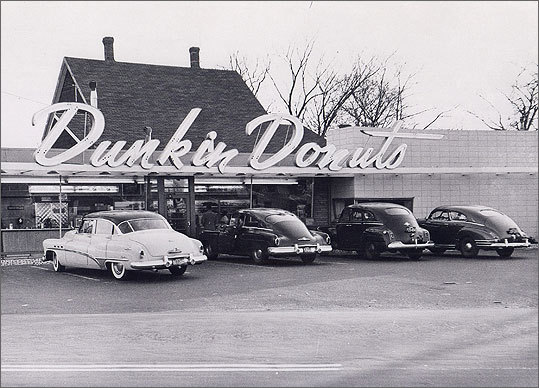 I haven't had one of their too-sweet and mushy donuts in years, but once in a while I'll have a toasted bagel. I only like fried donuts.
Bob Rosenberg opened the first one in Quincy, MA in 1949, and the first of thousands of franchises the following year in Worcester.
In 2006 the parent company was acquired by a consortium of private equity firms: Bain Capital, The Carlyle Group, and Thomas H. Lee Partners. Heavy hitters, for a humble donut shop. Dunkin'Donuts is the world's leading baked goods and coffee chain, serving more than 3 million customers per day. Dunkin also bought Baskin Robbins a while ago, which is why you sometimes see the two carbohydrate outlets under the same roof.
Here's a pictorial history of Dunkin Donuts.
From American Digest: http://americandigest.org/
And Maggie's Farm: http://maggiesfarm.anotherdotcom.com/archives/20976-A-history-of-Dunkin-Donuts.html?utm_source=feedburner&utm_medium=feed&utm_campaign=Feed%3A%20MaggiesFarm%20%28Maggie%27s%20Farm%29